Expressing regret over the assassination of Shinzo Abe and referring to a history of his friendship and close relations with him, Rouhani wrote in Abe's memorial book: During his tenure as Japan's prime minister, he worked hard to strengthen the relations between the two countries, and also to solve Iran's nuclear issue.
Recalling the Islamic Republic's proposal for a world free of extremism, terrorism and violence, which was approved by consensus in the United Nations General Assembly in 2013, Dr. Rouhani wrote: I still believe that we must strive to achieve a world free from violence.
He expressed his condolences to the nation and government of Japan and Abe's family over the assassination of the former Japanese prime minister and wrote: The people of Iran, who are themselves victims of terrorism and have given more than 17,000 martyrs in this way, express their sympathy in such incidents.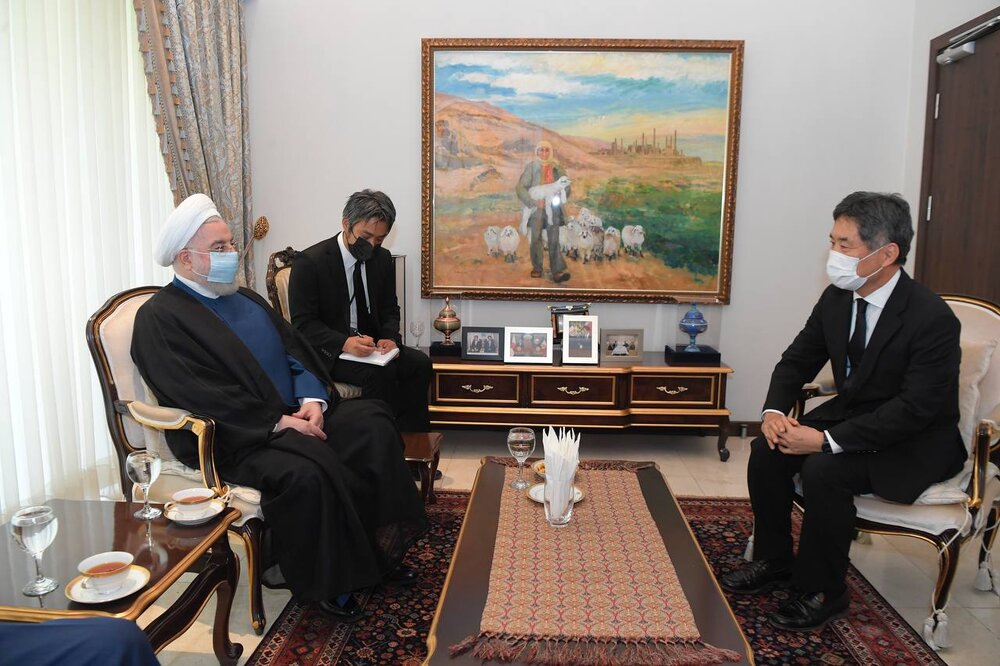 After signing the memorial book, Dr. Rouhani met and talked with Mr. Kazutoshi Aikawa, the Japanese ambassador to Iran. Rouhani said that he has met Shinzo Abe 12 times in international forums. He added that Abe's visit to Iran was very important. In addition to the purpose of deepening bilateral relations, his trip was made to solve an international problem, and his efforts were valuable and priceless.
Rouhani said: My trip to Tokyo and meeting with Shinzo Abe and signing an official document with Japan were also important for bilateral relations and international issues.
Referring to Mr. Abe's many services to the Japanese people, he expressed confidence that his memory will always be cherished by the Japanese people and the world.
Mr. Kazutoshi Aikawa, the Japanese ambassador to Iran, also expressed his satisfaction with the presence of Dr. Rouhani at the Japanese embassy and signed the memorial book, and pointed out the importance of the relations between the two countries and his efforts to improve the level of these relations.
Dr. Mahmoud Vaezi also accompanied Dr. Rouhani in this event.